Which substances can inhibit the multiplication and survival of herpes viruses in the body?
What is this research project about?
Herpes viruses can cause a number of diseases such as chickenpox, shingles, herpes encephalitis, neonatal infections and Pfeiffer's glandular fever. They pose a serious threat to susceptible and immunocompromised individuals such as newborns, the elderly, transplant recipients and people with other immunodeficiencies or concurrent infections. For example, cytomegalovirus (HCMV) can cause severe disease in transplant recipients, and Kaposi's Sarcoma Herpesvirus (KSHV) and Epstein-Barr virus (EBV) can cause cancer.
We aim to expand the portfolio of currently available antiviral agents. Additional inhibitors could enable new therapeutic options, thereby suppressing viral replication in persistent infections or even eliminating the infection.
What's the current status?
There are many antiviral drugs against herpes viruses. They inhibit the replication of the viral genome and in this way stop the virus replicating – but unfortunately not completely or permanently, so that the infection cannot be eliminated. With one exception, all currently available antiviral drugs block viral DNA polymerase, the viral DNA synthesis machinery needed during viral replication.
However, these drugs are not efficient enough to permanently suppress viral replication or eliminate the infection. Very often, this results in persistent expression of the viral genome, which can contribute to disease development.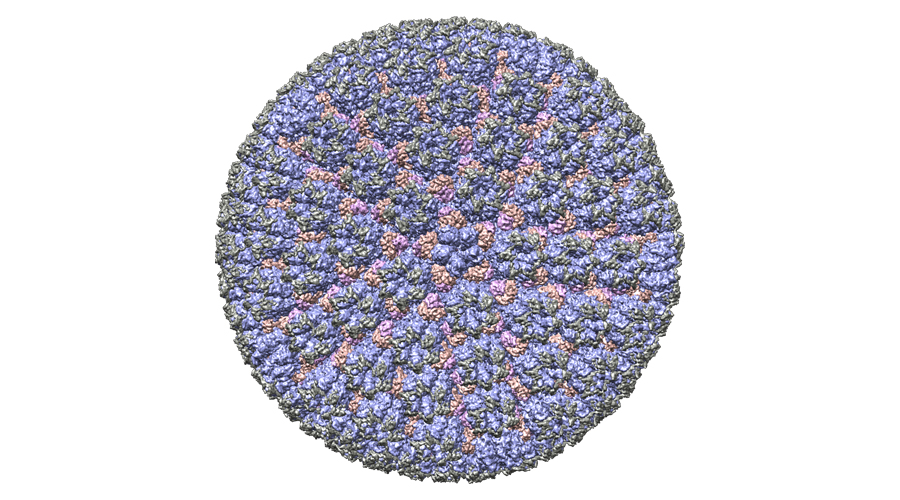 Kaposi's Sarkoma Herpes Virus capsid structure, which serves to package the viral genome.
From our more than 25 years of experience with various herpes viruses, we have learned a lot about how the virus manages to establish a long-lasting infection, escape recognition by the host's immune system and be transmitted from mother to daughter cell during cell division. For example, the viral protein LANA of KSHV mediates many of these functions and it can reprogramme the infected cell in favour of the virus. Therefore, we are exploring the structure of LANA in more detail and also the nature of tiny "territories" in the nucleus of the infected cell where the virus resides in latent form. We have also characterised the function of the viral membrane protein pK15, which is necessary in early phases of replication. We have developed first-generation inhibitors for both LANA and pK15. Now we want to transfer these findings and experiences to other herpesviruses such as the β-herpesvirus HCMV.
Another attractive drug target is the CATC protein complex of the virus assembly. This structure is potentially applicable for a broad-spectrum approach. It has already been solved for herpes simplex virus (HSV-1) by cryo-electron microscopy.
An equally interesting antiviral target, which could also allow a broad-spectrum approach, are the auxiliary proteins of viral DNA polymerase. They act as processivity factors in viral replication. We are exploring whether these factors and its homologues from other herpesviruses are suitable as potential antiviral target proteins.
Structure of the complex that the Kaposi's Sarcoma Herpes Virus protein LANA forms with DNA.
Projectleaders
Project title: Innovative target molecules for inhibiting herpesviral infections