How RESIST is promoting young talents
RESIST offers motivated young people who want to research on infections and immunity numerous qualification measures for different phases of their academic career. On the one hand, young RESIST investigators have access to already existing training and education structures of the Hannover Medical School (MHH) and partners and on the other hand, RESIST creates new own measures for young researchers.
In the further course of this page, we will introduce you to the individual funding offers. A click in the offer overview leads you directly to the corresponding description.
We explain our research to people of different ages: there has already been a lecture for primary school pupils who came to the MHH for a lecture as part of the KinderUniHannover. We have also come up with exciting tasks and experiments on the topic of infection research for the "B!G B4NG Challenge" competition for schoolchildren organised by Leibniz Universität Hannover (see photo) and more than 30 sixth formers came to the UniStem Day 2023.
It is also planned that RESIST will participate in the LeibnizLab of the University of Hanover in 2023 – so that pupils can carry out experiments on infection research in the classroom.
And our teams also answered questions that pupils have about infection research, as videos on Instagram – as part of "Ask the University-You ask, we answer" of the uniKIK school projects of Leibniz Universität Hannover.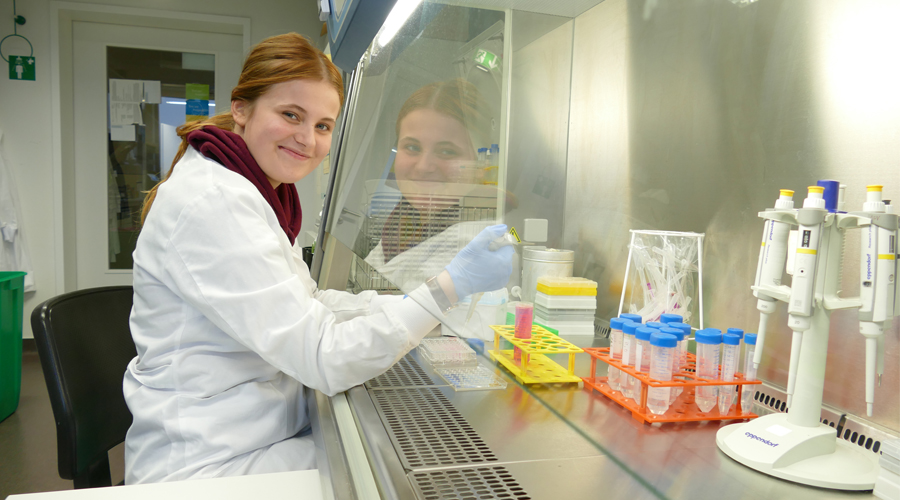 For students
For students
During medical or scientific studies, there are numerous further training measures: For example, the RESIST teams offer internships and places for bachelor's and master's theses to promote practical training.
Of particular interest is the new Master's programme: "Biomedical Data Science", which was created within the framework of RESIST for graduates of a bioscience Bachelor's programme or a medical degree. The photo shows the first cohort, which started in the winter semester 2021 / 2022.
For doctoral students
For doctoral students
Natural science students can do their PhD in the international programmes "Infection Biology" and "Dynamics of Host-Pathogen Interactions" (DEWIN), which are organised by the Centre for Infection Biology (ZIB). In doing so, they can be supported by RESIST if they are conducting research in a RESIST project.
Medical students can do their doctorate within the programmes "StrucMed" and "KlinStrucMed", under the umbrella of the Hannover Biomedical Research School (HBRS). Here, too, RESIST supports students who prepare their medical dissertation in RESIST laboratories.
For postgraduates
For postgraduates
For postgraduates from all over the world, there is intensive three-week training in immunology, virology and bacteriology in the form of the annual summer academy LISA. RESIST sponsors LISA as well as internships in RESIST research groups. RESIST can also support participation in The Translation Alliance in Lower Saxony (TRAIN) postgraduate programme to promote career opportunities in industry.
To support advanced postgraduate training, there are "Young Faculty Programmes" for senior postdoctoral fellows and clinicians. Here, RESIST supports postgraduates who are continuing their education in infection biology. In addition, RESIST awards rotational positions for physicians who are temporarily released from patient care duties in order to devote themselves entirely to research ("Gerok positions").
We represent your interests
We represent your interests
Dr. Carina Jürgens (on the left in the photo) represents the interests of the postdocs in the RESIST Cluster of Excellence, and Marie Schulze represents the interests of the doctoral students. They also want to ensure that many contacts are made between the young researchers, thus creating good connections. Contact: schulze.marie-sophie@mh-hannover.de und juergens.carina@mh-hannover.de.
Additional services
Additional services
RESIST also offers young, talented researchers the following services, some of which are still in the planning phase:
RESIST's international junior staff can take part in language courses specially organised by RESIST to learn German. The first course started at the beginning of August 2020, these courses by lecturer Artur Sieg are very popular.
Furthermore, RESIST provides access to online tools of Nature Masterclass in Scientific Writing for most talented PhD students of RESIST. This has already happened for the umpteenth time. A mentoring programme and individual coaching is planned.
Additional services
Additional services
Dr. Andreas Strecker from the DFG Head Office gave a lecture on 2 June 2023 for RESIST young researchers and other interested parties on funding opportunities offered by the DFG. This included, for example, what is absolutely necessary for a good proposal and what one should definitely refrain from doing.
The programme director of the Life Sciences 2: Microbiology, Immunology, Neurosciences group kindly provided us with the presentation, which contains a lot of information. You can watch it by clicking here.
The photo shows (from left): Dr. Eugenia Faber, Prof. Schulz, Dr. Strecker and Prof. Falk in front of MHH building J6.