Doing a doctorate in RESIST
You will find them in almost every RESIST project: a PhD student who is funded by RESIST. And in addition, numerous other PhD students are involved in RESIST projects with their doctoral theses. They are all also part of the PhD programmes of the Centre for Infection Biology (ZIB), which includes seminars, congresses and laboratory courses.
Doctoral programmes in the natural sciences
Students of natural sciences can write their doctoral thesis on the complex interactions between humans and viral or bacterial pathogens in the international three-year PhD programmes "Infection Biology" or "Dynamics of host-pathogen interactions" (DEWIN) – like Dr. Matthias Bruhn (photo), for example. The language of instruction for these doctoral programmes organised by the Centre for Infection Biology (ZIB) is English.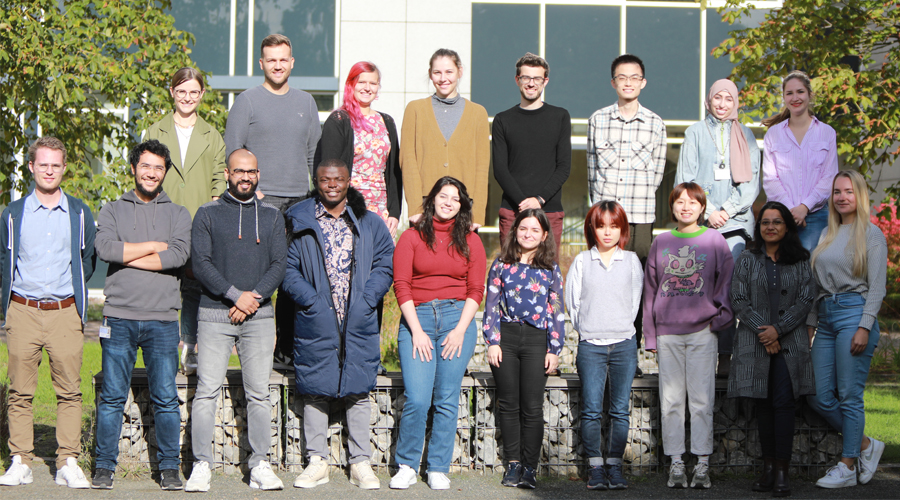 Every year, 20 students from all over the world are admitted after a rigorous selection process – the photo shows the PhD students who started in 2022. The 60 students enrolled in the ZIB programme take part in seminars, congresses and laboratory courses. In addition, they are supported by a network of supervisors. After the doctoral examination at the end of the third year, they graduate from the programme as highly qualified scientists.
Clinical doctoral programmes
Clinical doctoral programmes
Medical students can do their doctorate under the "StrucMed" and "KlinStrucMed" programmes – under the umbrella of the Hannover Biomedical Research School (HBRS). "StrucMed" provides the framework for a nine-month experimental doctoral thesis in a department of the MHH or a partner institution (TWINCORE, ITEM, NIFE, HZI), "KlinStrucMed" offers structured training for clinical dissertations. RESIST sponsors students who prepare their dissertation in a RESIST laboratory. The results of the StrucMed work are presented in a symposium open to the public at the university.
Representation of interests
Representation of interests
Marie Schulze (shown on the right in the photo) represents the interests of the doctoral students in the RESIST Cluster of Excellence – together with Dr. Carina Jürgens, who represents the interests of the postdocs. Both also want to ensure that many contacts are made between the young researchers, thus creating good connections. You can reach Marie Schulze by email at any time.
Further offers
Further offers
The international RESIST junior researchers can also take part in language courses specially organised by RESIST lecturer Artur Sieg to learn German. In addition, the most talented RESIST doctoral students are offered access to the online tools of the Nature Masterclass in Scientific Writing.
In order for the doctoral students to get to know each other (better) and to be able to establish contacts with the postdocs, there are regular meetings in the form of a convivial Stammtisch. A mentoring programme and individual coaching are also planned.